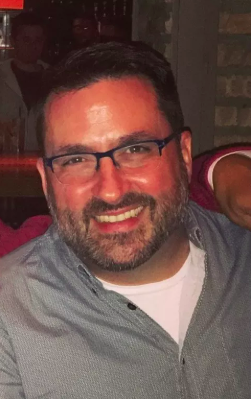 Meet Rick Aiello, a Tenor II, former marketing committee co-chair, Membership Council member and president (2008-2010), Board of Directors member (1999-2001), and recipient of the Merry Mary Service Award (2012). Rick has been a member of the Chorus for over 20 years, and his story is a heartwarming example of how CGMC fosters an environment full of support for one another.
As a child, Rick was encouraged to sing by his mother. "Top of the World" by the Carpenters was a favorite of theirs, and he says he has cassette recordings of him singing the song with his mom at about age 3. His enjoyment of music took him through elementary school music classes, to high school musicals, to joining the Chicago Gay Men's Chorus in 1998.
When asked about what keeps him coming back after all these years, Rick laughed, "I still feel like a newbie." He shared, though, that the main reason was because he feels a part of something. It is the connections he made with the 90 CGMC members when he joined in 1998, to the nearly 180 current members, and everyone who has come and gone in between that have become his chosen family. He affirmed that even the Chorus itself has become a member of that chosen family.
The truest example of Rick's chosen family comes from a memory he shared from 2014. It was February, and he was rehearsing for "Let's Do It!", the winter cabaret show. "Mom died on Sunday," he told me, "the dress rehearsal was on Monday, and the show was on Tuesday," he recalled. "Even now I can't believe I did it, but I felt like my mom would have wanted me to perform anyway." Knowing what had happened, everyone was shocked to see Rick at the dress rehearsal. He had no voice, but choked through dress rehearsal anyway.
Rick reflected on the night of the show. "The house was packed," he said, "and it was filled with mostly chorus members." His performance of "Come Down in Time" by Elton John was in the second act. "I got through the song by focusing on one bright spot, high in the balcony area," he recalled. "That was my mom. She was there."
"I finished the song and the audience gave me a standing ovation," Rick uttered with tears in his eyes–ah, I have goosebumps!–"It was amazing. That special moment really defined how much CGMC is my family."
Support from his CGMC family has brought him jobs, housing, a shoulder to cry on, and people to laugh with during times when he has needed it the most. "As LGBTQ+ people," he paused, "we need that sense of togetherness. CGMC is a network of people who come through for each other."
As I sit and reflect on my conversation with Rick, my biggest takeaway is that CGMC is not only an arts organization to Rick, but it has become a vital part of Rick's personal life. Rick's words are a testament to the support system that is CGMC. "After all these years, we are still and always will be a family. People here are going to lift you up when you need it most."
I have goosebumps. Don't you?

Anthony